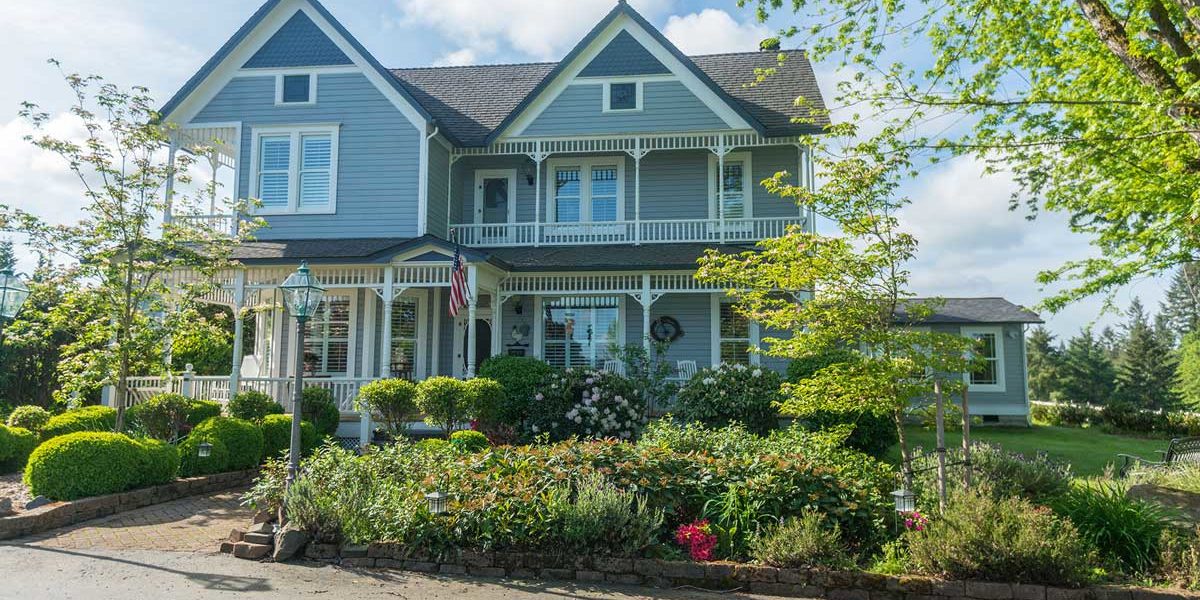 Establishing Curb Appeal
Does your house have curb appeal? Does it put a smile on your face when you arrive home? Does it stand out in your neighborhood as an example of good design, solid construction and beautiful landscaping? Many people try to build these things into their home, but only when they decide to sell it! Why improve your home for the next family, when A.C.T. Builders can give you "curb appeal" right now?
How do we define curb appeal? It means different things in different neighborhoods, because it definitely takes the surroundings into consideration. For some houses, more than aesthetic improvements are required to get curb appeal. Whether it's age, a remodel that just didn't fit, or simply a lack of verve to start with, you can make a house appealing if you make the right repairs or renovations.
Curb Appeal Requires Balance
A house with good balance is a pleasure to see. Every component —the roof, the windows, the front door, the garage, the materials, landscape and hardscape — all blends as one. Older homes that once were the star of the block might lose curb appeal after multiple owners put their own personality into the home, to the point that the balance is lost.
A.C.T. Builders specializes in balancing your home's exterior. We give you an honest assessment of what your home needs for real curb appeal. Take a look at our gallery of finished jobs and you will see that we have the experience in the Pacific Northwest to get your house in balance.
Make It Fit With the Neighborhood
Individuality in a home can be a good thing, but sticking out on your street won't make you any friends in the neighborhood. Before deciding on a plan or design, drive or walk around your block and note the houses that seem to fit best — the houses you would be willing to move into. Do you see a certain trend, or a look that says a house found it's sweet spot? What features do you see that are pleasing to your eye and make you smile? Those may be the things you want A.C.T. Builders to incorporate into your home.
But if you just can't decide what it is that makes a house noteworthy, don't worry. We can. Our professionals and those we work with are expert at making homes look like they belong in the neighborhood. Your home deserves to have its unique personality, while fitting in seamlessly with your beloved neighborhood.
Those Exterior Updates Save Money
Interior changes are usually the first thing people think of when considering a remodel or curb appeal. That's natural, since we live inside the house, not on the front lawn or in the driveway. Nevertheless, investing money in the exterior of your home adds value, maintains its soundness and prevents costly repairs in the future.
For example, new windows and doors, installed by people who know their craft, add beauty to your home from both inside and out. They also cut down on heating and cooling costs. But before deciding to hire a company from a home improvement store, step back and think. Make the decision to do your modifications right! A construction professional sees your home from a fresh perspective. Placement of windows and choosing the right style are key to getting the most from your investment.
The exterior of a home also endures a lot of abuse in the Pacific Northwest. Rain, wind, snow and, depending on your location, beating sun. The roofs, windows and siding get it all. Simply painting over blemishes is a sure way to conduct major repairs later. If your home is older and you're trying to spruce up the exterior, get input from a trusted company like A.C.T. Builders for long-term solutions. We'll help you decide on updates that give you the best return on your investment, while improving your home's value and its appearance.
So think of curb appeal as more than a concept for selling your home in a hurry. It's for all of us who want to live in a house that says we care, in a residence that contributes to the neighborhood we love, and in a place we are proud to call our home.
Contact A.C.T. Builders and together we can get started on that most appealing of projects, making your home beautiful!